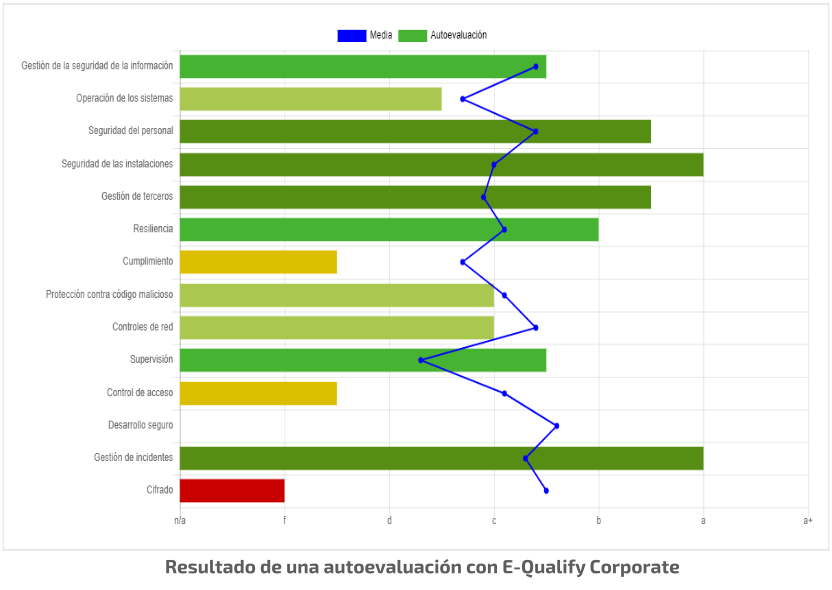 Associations or groups that seek ways to add value to their members, thanks to the E-Qualify Corporate tool can be disseminators and channels of something as important as cybersecurity awareness and preparation.
Knowing your own level of security is essential for all organizations, and the basis for carrying out the necessary improvement actions, but security depends on a large number of factors that in many cases are not fully taken into account. And for this reason, our E-Qualify Corporate tool offers, free of charge, a questionnaire that takes all these factors into consideration, so that any organization can find out in a simplified way its own level in the 14 domains of our control framework. This is particularly valuable for those entities that do not have extensive knowledge or resources of their own to manage cybersecurity.
From LEET Security we will generate a specific E-Qualify campaign, so that all members of an association can carry out a self-assessment of their cybersecurity capabilities through our tool, so that each of them will receive their own results report, showing the level obtained compared to the average of all evaluations carried out.
In addition, and specifically for the group, we will prepare a report that will show the specific evaluations for the group and the conclusions or recommendations that are drawn from them, and that can be disseminated among all members, so that each of they can appreciate and compare their position with the rest, as well as have a possible information base to improve their preparation.
If you manage or form part of an association, collective or interest group, and you consider that this proposal may be of interest to you, do not hesitate to contact us.