Rural Servicios Informáticos (RSI), entity that provides core banking services to Rural Groupo and other financial entities, has become first organization in rate the security of services provided gaining a B B A label according to LEET Security rating system.
RSI has become the first organization in gaining the rating security label offered by LEET Security.
RSI has undergone the rating of its 3 main services offered ('Services to Members', 'Services to Third Parties' and 'Internal Services') obtaining in all of them the level B B A. This rating level shows the effective application of a high control framework and security measures in the three dimensiones rated (confidenciality, integrity and availability).
The innovative security rating service offered by LEET Security provides information to RSI clients about security measures implemented, as well as its reponsed capacity in case of incident. Both traditional factors as policies and security mechanisms, periodic audits o certifications and business factors as long term strategy o financial solvency has been evaluated to provide the rating level.
LEET Security service rating can be used by RSI clients to a priori evaluate the confidenciality, integrity and availability of each specific service in relation with services offered by other providers and check with their own needs.
In the words of Manager GRC & PIC, Mr. López Bernal: "Security controls rating through an independent evaluation by a rating agency means creating trustworthiness and reliability to our stakeholders about our infrastructures, services, processes, information and people regarding security, privacy and continuity applied to them, showing that RSI not only has management and governance systems, but a tangible and determined bet to achieve excelence thanks to continual improvement and innovation because of transparency provided by rating system."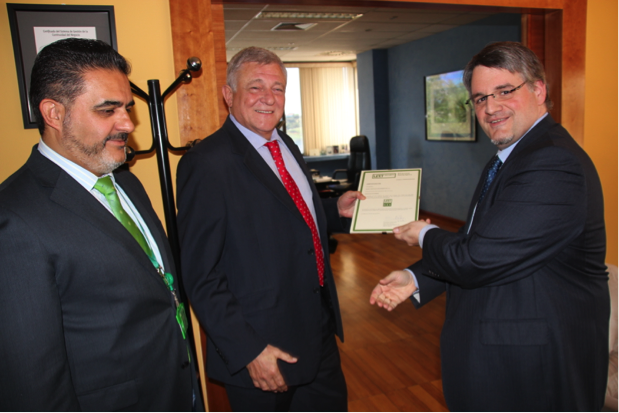 Antonio Ramos, Founding Partner of LEET Security, hands over the first rating labe to Carlos Moradell, Managing Director, and Pedro Pablo López Bernal, Manager GRC & PIC, of Rural Servicios Informáticos.
You can follow us on twitter.com/leet_security